THE LIST OF MY FAVOURITE FITNESS APPS (IOS AND ANDROID FRIENDLY)
1. The Health/Samsung Health
Track your fitness, weight, diet, food, and sleep. These apps will record and analyze your daily activities and habits and help you with maintaining your desired lifestyle.
You can add different physical activities and exercises you did during the day.
You can also set goals regarding any of the areas mentioned above.
The feature of sharing is very helpful as you can motivate yourself and your friends. There is nothing better than a supportive community.
2. Pedometer, Step Counter and weight loss tracker
Were you ever wondering how many steps you do every day? Pedometer app uses a built-in sensor to count your steps. You don't even need GPS signal which is super effective when you need to save your battery. You can also set daily step goals and then check your statistics chart to stay motivated.
All features are 100% FREE and you can choose from different color themes which makes it more eye-pleasant!
Did you know how important is diet in comparison to working out? Diet forms 80% of a healthy lifestyle. We usually want various tasks from our body but sometimes we forget we are not giving the needed fuel. What we put into our body reflects on what we are capable of. Simply how much energy we have, how healthy we feel. Don't forget we have only one body and it's crucial to take care of it.
My absolute favorite app is Cronometer. You can set your dietary goals and track what you eat throughout your day. You can easily scan the food and create your own recipes. It tells you what nutrients and vitamins does your meal contain and you can easily see if you are missing some.
4. Lifesum
Lifesum, similarly to Cronometer, allows you to plan and track your diet. Depending on your diet, Lifesum can help you to find a diet plan that is suitable for you whether you are vegan or on a keto diet. There is also food diary in Lifesum app so you can record anything you need.
5. Sportractive
Another great app for all your fitness activities like walking, running, jogging, hiking, cycling, mountain biking and many more. It offers you 25 indoor and outdoor activities you can choose from. My favorite feature is that you can customize your screen to show time, speed, pace, elevation changes, heart rate, burned calories etc.
Your speed will be also colored with different colors on the map. Thanks to the Bluetooth synchronization you can monitor your heart rate.
If you are more into straight training, Sportactive allows you to track your body measurements (neck, waist and hips) and it calculated your BMI and body fat.
6. Strava
If you are cycling, Strava is the right app for you. Strava tracks your workouts on the map with all the information like speed and elevation. You can also see the results of other people who did the same route as you and challenge yourself.
You have to activate your GPS.
7.FitBit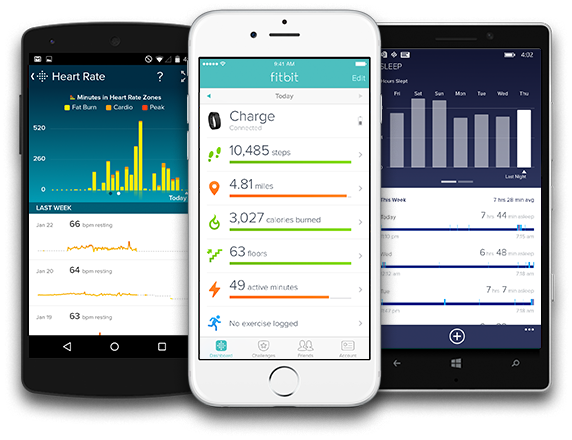 Fitbit works as a daily activity tracker that includes basic activities like walking, running, hiking, and sleeping. You can also set your goals and "compete" with your friends.
8. Endomondo
Endomondo is vastly popular app among runners. but it can also track your walks, rides and other workouts. You need GPS for being able to use Endomondo tough. As there is a huge community of people, you can become a part of it and stay motivated in tough moments.
What I like is the analysis of your results like time, distance, pace/speed, calories etc.
Endomondo also notifies you when you hit your best record and celebrates with you!
Endomondo is another devices-friendly, so you can simply connect it to other apps you like to use.
It will also challenge you on a weekly basis and make you committed to your goals.
9. Runkeeper
If you are not like me and you like running, Runkeeper is for you! Runkeeper can easily track your progress and help you to stick with it. Runkeeper not only works for running but also other cardio activities like walking, hiking, cycling, skiing or ice-skating.
10. MyFitness Pal
MyFitnessPal is pretty similar to Cronometer, but it also functions as an exercise monitor. You can connect to more than 50 other apps and devices to help incorporate your activity and diet information in one place.
Download the list of my favorite apps and have access anywhere.
I hope my tips will help you on the way towards your goal.